Preventive Well Maintenance
STI has specialized in providing well rehabilitation services for the past 32 years. After treating more than 7,000 wells worldwide, we are convinced it is far better to maintain yield and efficiencies than to try to recover them. This experience led to the development of the Aqua Gard® preventive Well Maintenance Systems, where proactive rather than reactive cleaning has proved to be more efficient and much more economical for the client. In addition, because well and geological formation surfaces are kept clean, raw water quality is improved.
The Aqua Gard® system incorporates the placement of energy injection equipment permanently installed with the pump in place.  This allows for regularly scheduled, routine, preventive service to the well without removing the pump. AQUA GARD® can be installed in wells equipped with both submersible and vertical line shaft turbine pumps, collector, horizontal or angle wells, as well as ASR injection wells.   Each Aqua Gard system is specially designed to strategically position the injection points to coincide with the water bearing zones in that specific well, assuring a complete well cleaning. Local raw water quality, specific well operation and historical rate of well plugging will determine the intervals between services. Aqua Gard® is ideal for new well installation or for installation following a major well rehabilitation effort. Wells that experience severe and rapid fouling recognize a financial and efficiency benefit from the onset.
Improved Well Performance
Lower Cost for Well Maintenance
No Need to Pull the Pump
Reduced Energy Costs
Maintains Well Production
Keep Surfaces Clean
Less Unsafe Bacterial Samples
Increases the Life of the Well
Maintains Pore Volume in the Well and Aquifier
The Aqua Gard®
system is ideal for:
Screened wells
Open hole wells
Vertical
Horizontal
Collector wells
Injection wells
Environmental recovery wells
A well equipped & serviced with Aqua Gard® will:
Produce more consistent yields
Significantly reduce electric cost
Increase the life of the well
Reduce well cleaning cost
Improve Water quality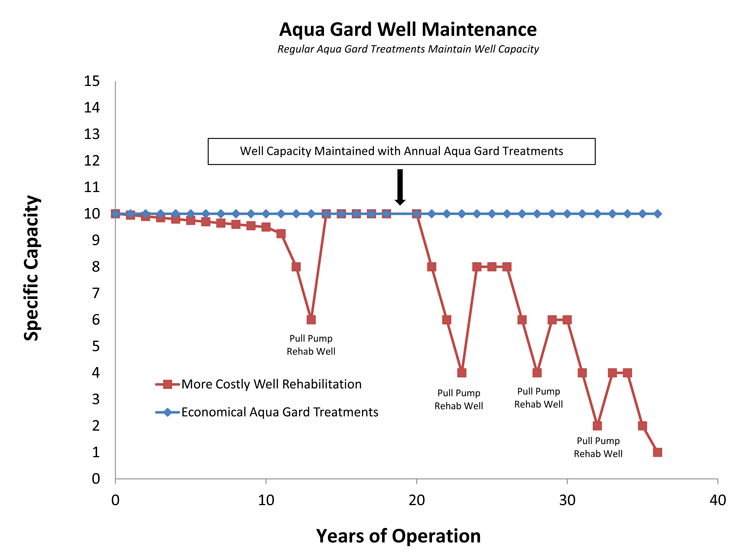 Aqua Gard® is the latest product in our line of innovative technologies. The Aqua Gard® system is for preventive well maintenance. Aqua Gard™ inhibits well plugging and the resulting lost well capacity, while placing your well on a sustainable path into the future. Aqua Gard® incorporates the permanent placement of energy injection equipment installed in the well alongside the well pump allowing wells to be effectively maintained without removing the pump. A scheduled periodic cleaning service is performed, usually in 1 day, thereby reducing down-time, maintenance and pumping energy cost, all, while ensuring the well surfaces are kept clean for improved water quality, increased flow and capacity, with fixed budget annual pricing.
Below is a cost comparison between traditional cyclical rehabilitation, and a 5-year preventive maintenance transition program for a 25-well system.
Well Depth: 400 ft.
Well Diameter: 12 in.
Production Rate: 500 GPM
Est. Ann. Energy Savings Per Well: $ 2,877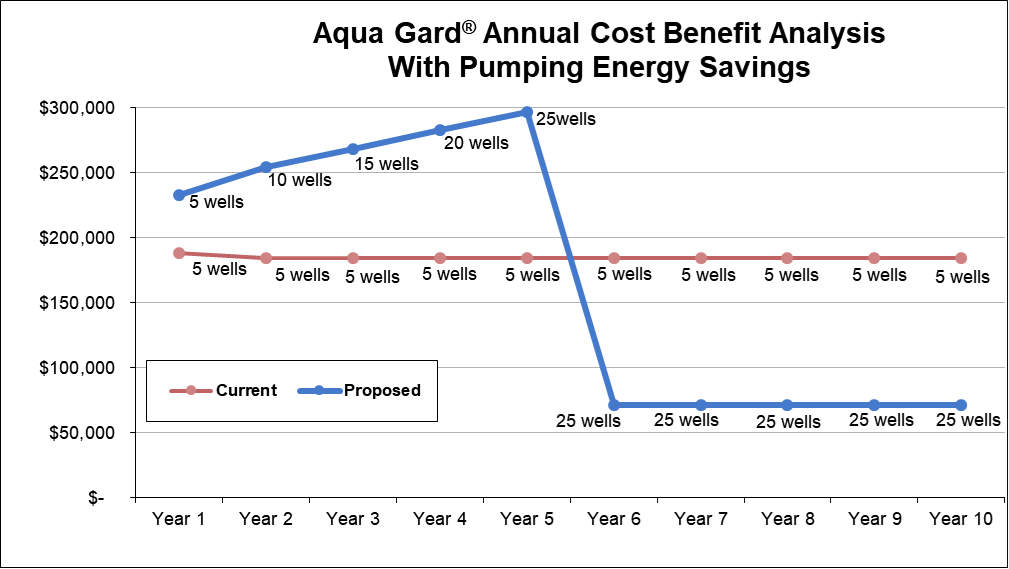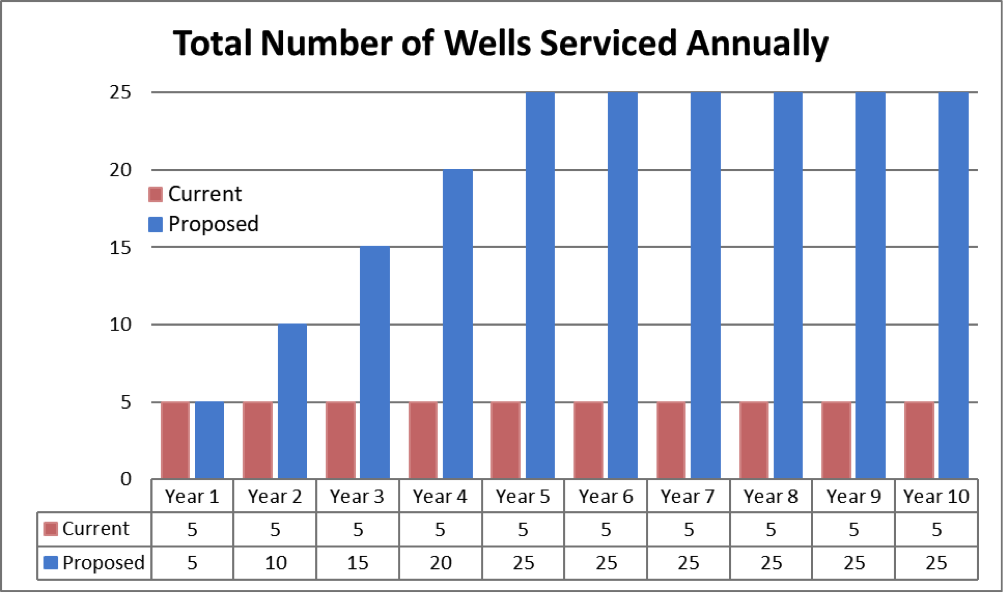 The 5- year transition comparison below is even more dramatic when considering deeper and larger diameter wells which produce higher volumes of water.
Well Depth: 1000 ft.
Well Diameter: 18 in.
Production Rate: 2500 GPM
Est. Annual Energy Savings Per Well: $ 29,065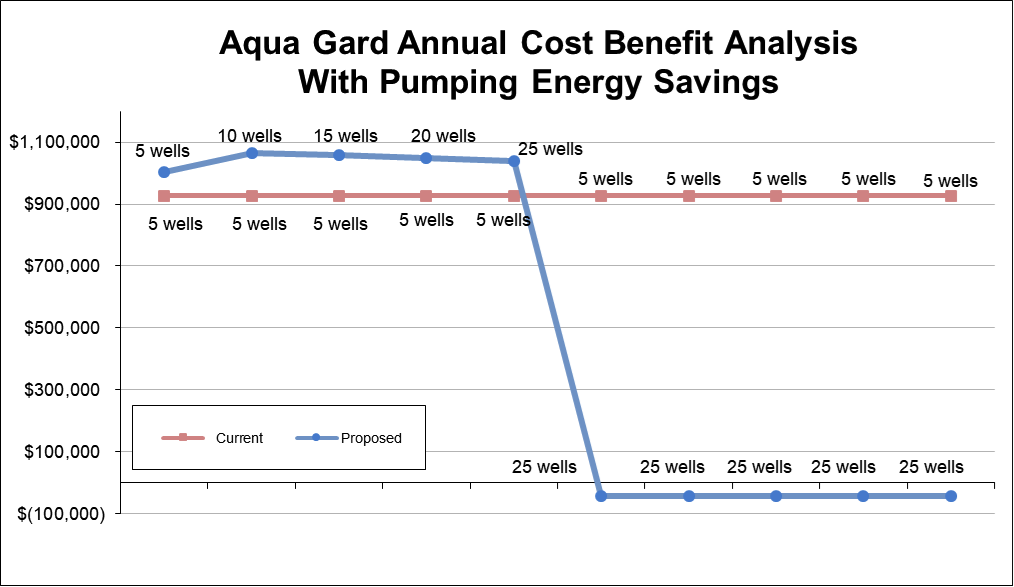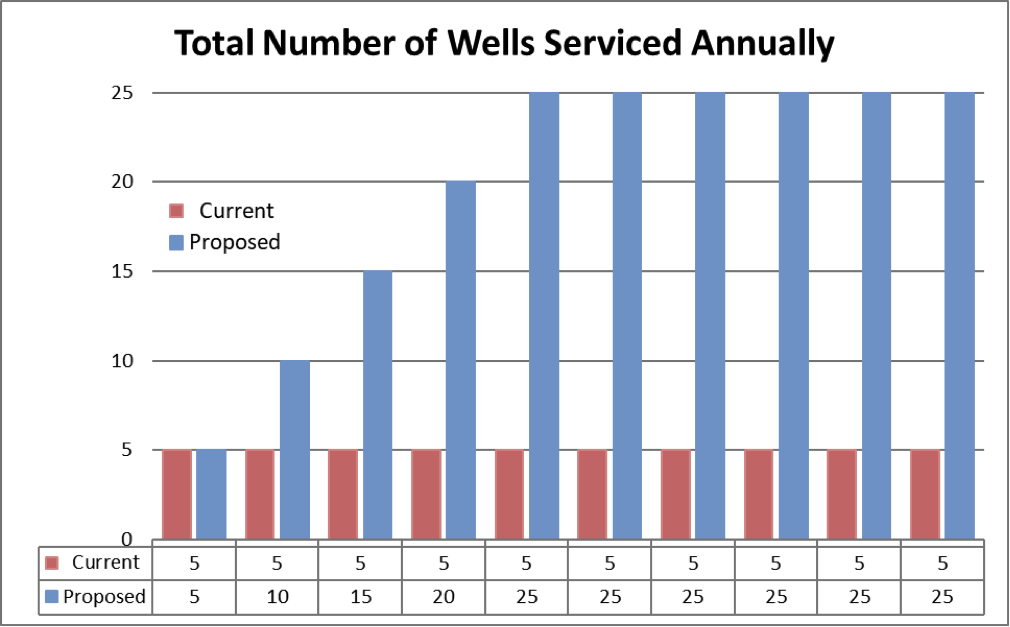 Products & Intellectual Property Insured Through: